'Twas the week before Christmas and all through the store, all were a flurry prepping ads that would bring shoppers through the door.
Be proactive this year and get your online holiday advertising campaigns in order well before the Christmas rush. Regardless of whether you have a physical store or an e-commerce site, these tips will help you maximize sales during the holidays!
Tip #1: Start Ads Early and Run Long

November is the perfect time to start running online ads that will nab the attention of early bird shoppers. According to Google, 16% of shoppers plan to start their holiday shopping at the beginning of November.
You should also consider stretching your holiday campaign a bit beyond the end of the holiday season since it was noted in Google's Post Holiday Recap for 2012 that 39% of people continued shopping after the holidays. The top reasons for post-holiday shopping? Shoppers wanted to buy a gift for themselves and/or were waiting for post-holiday sales.
Tip #2: Timing Your Ad Budget Increases is Everything
Make sure you optimize spending during MasterCard's estimated top spending days. The following calendar clearly outlines which days are top in-store and online spending days.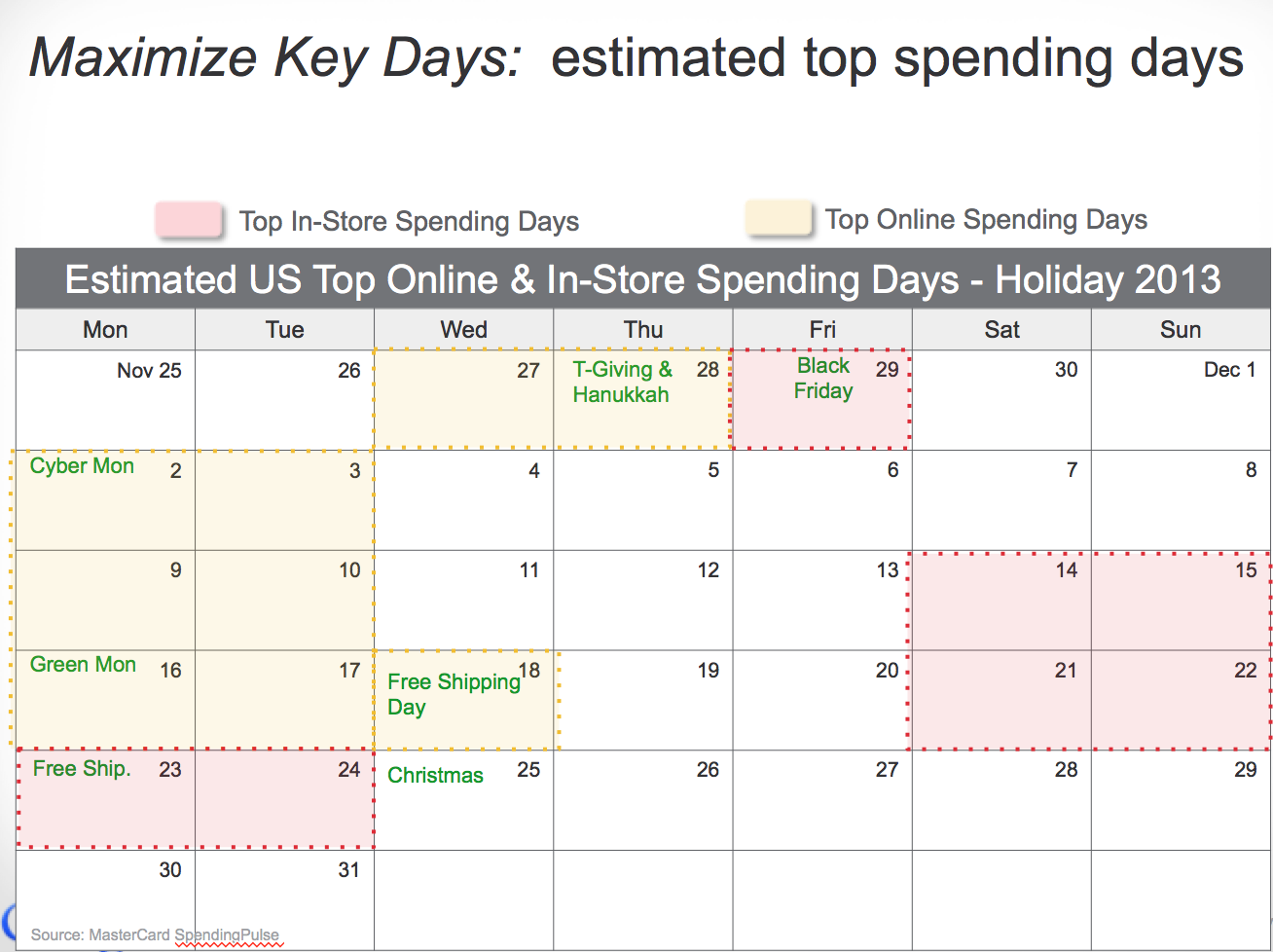 Tip #3: Target Ads & Create Holiday-specific Landing Pages
Target ad text with keywords and phrases appropriate to the holidays such as: "Looking for the perfect holiday gift?" and make sure a strong call to action is included in the ad text. Additionally, be sure to create a holiday-specific landing page to go with your holiday ads, this will improve click-through rates and ad quality score (if your ads are running on Google Adwords).
One of the big takeaways from Google reports on holiday trends is that promotions heavily influence purchase decisions. So, be sure to incite customers to buy by including special offers such as coupon promo codes (ex. Use XMAS promo code for 20% Off) and free shipping on Black Friday.
Tip #4: Implement Cross Device Campaigns
If you do not have an online store at the moment this tip may be not be relevant to you this year, however, you should know that your customers expect you to be accessible not only in person but on their desktop, smartphone and tablet. The trend towards researching and purchasing via PCs and mobile devices is increasing consistently year over year. In fact, in a survey done by Deloitte, online shopping overtook traditional retailing for the first time in the survey's 15 years. Google also reported that mobile shopping on Christmas Day alone increased by 173% in 2012!
We are also discovering that people are shopping and comparing prices all the time, whether they are on the bus, at home or strolling through the mall, so it is crucial that retailers meet their consumers online with holiday campaigns across all devices especially during key online spending days.
Bonus Tip: Write mobile-specific ad versions that better match what a shopper would be looking to do on their mobile device versus on a desktop/laptop. (ex. Make phoning the local store the key call to action)
We hope these online advertising tips will help you rock this holiday season and remember to review your stats early in the new year so you can create an even better holiday game plan in 2014!